In early January, a 73-year-old widow in Burwood East was victim to a crime that's becoming increasingly more common in Melbourne.
When two men knocked at the widow's door and told her they could help her with extensive maintenance around the property, she agreed to pay them $33,000 for the work; an amount that she paid in cash over three days.
However, the men never returned after they left telling the woman they would come back with the necessary materials.
'Professional tradesmen do not tout for business. They wait until you approach them.'
This is similar to another incident in December 2014, when an 83-year-old Box Hill resident paid $98,000 to two con men who never did the work they promised to complete around the property.
Unfortunately, these are not rare occurrences. Unsolicited door knocking – particularly by con men targeting the elderly – is a problem that needs to be addressed.
We would like readers to be aware of what to look out for when approached by salespeople offering to provide 'cheap' services.
Typical Stories from Con Men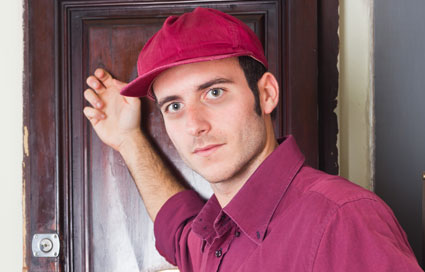 In November 2014, Alcoil received a distressed call from a customer whose father had paid $14,000 to an unsolicited door knocker promising to replace his gutters.
The unqualified workmen then proceeded to pull down the old gutters – destroying the fascias, eaves lining and tiles – only to disappear, leaving behind an expensive mess.
If someone knocks on your door, offering 'cheap' and immediate gutter installation, please be aware that this is not how professionals behave.
Some typical stories used by con men to persuade targets perceived as vulnerable include:
'We have material left over from a cancelled job, so we can give you a great deal.'
'We are doing work in the area, so we can fit yours at the same time if you're quick.'
'We had a job cancelled, so we can fit a job in for you immediately.'
Professional tradesmen do not tout for business. They wait until you approach them.
While con artists can be persuasive, we implore customers never to pay money upfront – even if the offer seems attractive.
At Alcoil, we do not ask for any payment before the completion of a job – not even a deposit. All payment is provided once the work has been done by our licensed plumbers as required by law.
That is how professionals behave.
If someone approaches you with similar claims, asking for upfront payment, do not give them money. Rather, call Crime Stoppers on 1800 333 000.
For professional, licensed gutter installation, call Alcoil on (03) 98874563.

Source: Whitehorse Leader.