'Clean gutters'. It's an item on your weekend to-do list that always seems to remain unchecked. It's easy to push those full gutters out of your mind until the next spell of home improvement enthusiasm.
At Alcoil, we know gutters. And after almost 25 years, also we know the importance of keeping them clean. Leaves in gutters pose a serious fire risk during the summer months, and as a damaging hazard to the appearance on structure of your home during wet months.
We supply solutions to help keep your gutters cleaner for longer. However, for some gutters, the damage has already been done. If your leaky or rusty guttering needs replacement, Alcoil's premium and long lasting guttering will leave you happy for decades to come.
Call Alcoil today on (03) 98874563 and ask about our range of guttering solutions.
Why keep gutters clean?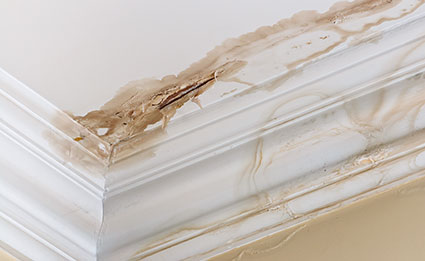 A few leaves in gutters seems like a harmless enough problem, but they can end up being a costly hazard if left alone and forgotten.
When gutters are not functioning properly, they easily overflow and become inefficient at their role of diverting water away from your roof and home. Water can damage the surrounding roof and timber, and in some cases cause structural damage to walls and foundations. Cracked or rotting homes are not just unattractive, they can end up costing thousands to get repaired.
Leaves in gutters are also a fire hazard. During warmer months, leaves which have been baking in gutters under the summer sun offer the perfect conditions for a fire to start. Leaves in gutters make even a stray spark a risk to you and your neighbours' homes.
What to look for and when
It's usually easy to tell when your gutters are full of leaves and need a clean. Overflowing guttering can be a sign that gutters are stuffed full of leaves and blocking pipes, although it may be the sign of bigger problems too.
The time of year can also be a give away. In late autumn and early winter, established trees along avenues in older suburbs can become dumped in piles of leaves. As attractive as the colours of autumn are, it may mean it's time to clean out your guttering.
In some cases, regular monitoring of leaves in gutters is required. Various pine and eucalyptus trees shed throughout the year, particularly when stressed in hot weather. An abundance of eucalyptus leaves in gutters during summer is enough reason to schedule in a gutter clean, especially in bushfire prone areas.
Cleaning your gutters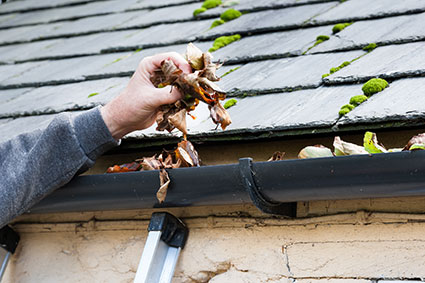 What should you do about all those leaves in your gutters? Get them cleaned, of course! A minimum of one clean per year is recommended, but this may be more depending on the number of nearby trees, the species of trees and fire prone areas.
Whether you clean them yourself, or hire a service, is up to you. For safety reasons, we recommend that you consider contacting a professional service, particularly if you are over 50 years of age. Most people killed or injured due to ladder related injuries were doing maintenance around the home.
If you choose to clean your own gutters, make sure that you are wearing a sturdy pair of gloves and have another person available to help out and keep that ladder steady. It may also be worth investing in extra safety gear, such as a harness.
How to keep gutters leaf-free for longer
A leaf guard can be a great way to stop leaves building up in gutters. Although there are products available to install on your existing guttering, many of these guards are flimsy, unattractive and easily get clogged with silt. Instead of cleaning your gutters, you'll end up cleaning the leaf guard instead!
A leaf guard from Alcoil is an attractive and effective way to reduce the number of times you need to clean your gutters. Our leaf guards come custom fitted with the installation of a new guttering system. A new gutter and leaf guard from Alcoil can significantly reduce the need for regular gutter cleaning, from once a year to up to every 3 or 4 years.
If you are looking for a practical and attractive way to stop leaves in gutters, call Alcoil on (03) 98874563, or find out more about Alcoil guttering here.