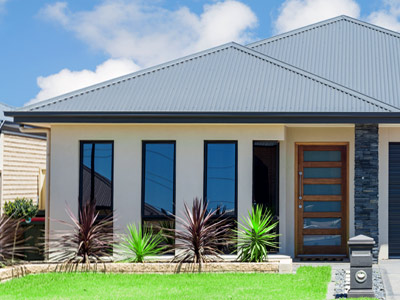 When making a choice on which roofing material to use on your home, there are many considerations to take into account. Price is an obvious one, yet you should also think about other factors such as material durability and lifespan, the weather conditions of your local environment, the aesthetics of your home and the building structure's weight bearing ability.
Metal roofing, especially Colorbond steel roofing, does offer significant advantages to older roofing options, including the fact that it was designed specifically for the Australian climate.
Let's start by taking a closer look at the usual roofing suspects – slate, ceramic and concrete tiling – before moving on to focus on the advantages of Colorbond steel roofing. We'll put the facts out there to help you make the right informed choice for your individual home.
Browse our range of metal roofing materials.
Alternatives to Metal Roofing, with their Benefits and Drawbacks
Slate Roofing
Pros
Cons

Long history of use
Long lifespan
Looks good on period homes
Noise reduction
Fire, rot and pest resistant

High cost
More fragile and breakable
Heavy on house structure
Can cause leaks
Harder to install
Slate offers a very aesthetically pleasing result, especially for heritage houses. Slate, however, typically comes with a high cost and with a heavier weight on the structure of your home.
Ceramic Tile Roofing
Pros
Cons

Long history of use
Long lifespan
Looks good on period & Mediterranean-inspired homes
Noise reduction

High cost
More fragile and breakable
Heavy on house structure
Can cause leaks
Harder to install
The weight of ceramic tiles may be a problem if your house was not built with this weight bearing ability in mind. If you are thinking of switching to ceramic tiling from a lighter material, you may need to add further structural support to your home, an extra cost which you may not have taken into account.
Concrete Tile Roofing
Pros
Cons

Lower cost
Long lifespan
Can mimic ceramic or slate tile
Fire, rot and pest resistant
Noise reduction

More fragile and breakable
Can become heavy due to absorption of rainwater
Roof access and maintenance more difficult
Cement tile roofing is a more cost effective option, however, it absorbs rainwater which adds weight to the material. Its fragility means that walking on the roof could cause breakage, so that all roof maintenance is more difficult and should be carried out by a professional.
Introducing Colorbond Steel Roofing... Designed in Australia for Australian Conditions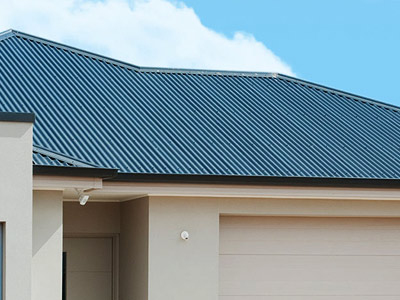 Colorbond Steel roofing has a longer lifespan and warranties
Colorbond metal roofing options for greater aesthetic appeal
Steel roofing is a lightweight & better natural insulator
Colorbond metal roofing requires less maintenance
A more environmentally friendly steel roofing option
Colorbond steel roofing is specifically designed for Australia's tough weather conditions. It was a metal roofing concept originally taken from America, but then refined further in Australia to offer a steel roofing solution with greater resistance to corrosion and other quintessential Australian environmental challenges such as extreme heat, cold and fire hazard.Colorbond metal roofing is a sensible choice, especially in areas of high bushfire risk, as this kind of steel roofing is easier to seal against fire, lowering the chance of external ember ignition.
Find out more about Colorbond steel roofing.
Steel Roofing with a Longer, More Colourful Lifespan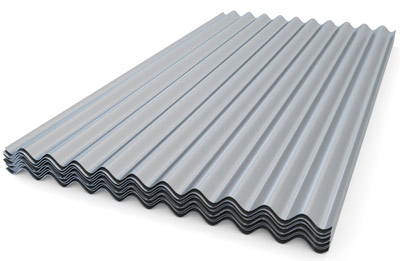 Luckily, when developing this metal roofing product further, inventors also kept aesthetics in the front of their minds. A large range of Aussie bush-inspired Colorbond colours are now available to suit metal roofing applications on every kind of home.
While the old-fashioned galvanised corrugated roof could last 20 years, Colorbond steel roofing has a 50 year expected lifespan and associated warranty.
Let Your Imagination Guide Design, Not the Limitations of Your Roofing Material
Unlike slate or tiles, steel roofing is lightweight and provides more flexibility in design, which means your architect can go wild with shapes and contours not possible with other kinds of roofing. This is especially relevant to houses with verandas and eaves, where the lightness of metal roofing allows for the necessary shallower roof pitch.
Pay Less While Being Eco-friendly
Metal roofing is more effective at preventing air infiltration, keeping heat in during winter and heat out during summer. This means steel roofing can also lower your energy bills while being kinder to the environment. To magnify this effect, Alcoil can install extra insulation under the metal roofing sheet, in addition to the existing insulation in the ceiling cavity.