How does your home look like from the street?
When you pull into your driveway, your home's curb appeal is not generally the first thing on your mind… but why not? Your house doesn't need to be market-bound to deserve a spruce up. Being house-proud keeps you productive, and the fun part is you get to enjoy the fruits of your labour.
Poke your head out the front and take a look for yourself. Assess the exterior of your home from the street and take note of what could be improved. You will be surprised at how easy it is to freshen the place up.
Front Entrance Facelift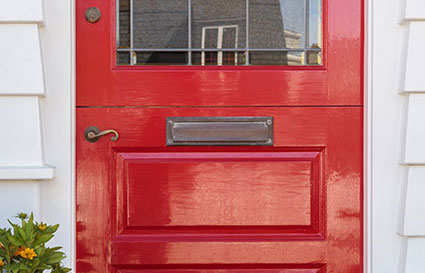 Your front door is the entry to your home, so naturally, it will be the focal point. To kick things off with a bang, why not paint your front door? Choose a contrasting colour to really make it pop!
Replacing your old doorknob can also make a huge difference. Install a door knocker while you're at it for that extra something.
Add some character with a unique pot plant and a cute chair or two on your front porch. This will produce a warm, homely feel while creating a new sitting area for you to enjoy.
If you have the space in your front yard, a walkway leading to your porch will drastically improve the look of your home. Not only is it a welcoming feature, but a stone or paved path can give your home that rustic feel.
Replace Guttering
At Alcoil we take pride in our long lasting guttering solutions, installed with skill and precision. Unfortunately not everyone can have Alcoil guttering so If your gutters are sagging, dripping, dented, or all of the above, not only will they be an eyesore, but ill-functioning gutters can do a world of damage to your home.
The best preventative measure is to maintain your gutters by cleaning them out regularly. Once or twice a year usually does it; however, if you have several overhanging trees, the gutters might need tending to three or four times a year.
The alternative is replacing your old gutters, there are many different profiles to choose from as well as the choice aluminium or steel. Continuous guttering is also a great option to help prevent corrosion, so you can expect a longer lifespan.
Mailbox Makeover
Time to trade in that rickety old mailbox; it's doing absolutely nothing for your home's façade. Go shopping for a mailbox design that will complement its surroundings and have passers-by admiring your good taste.

Hit the Lights
Landscape lighting can do wonders for your curb appeal when the sun goes down. Adding lights to your walking paths or accent lighting to trees or a feature on your house can create a whole lot of ambiance. You could even add some fairy lights to one of your trees for that magical touch.
Flower Power
Construct a garden bed along the front of your house or in any bare corners you may have in your front yard. By adding some bright flowers and plants, you will instantly lift the appearance of your home. Keeping the lawn neat and trimmed at all times is a must if you want to avoid the messy look.

As you can see, there are numerous ways to increase your home's curb appeal. All it takes is a bit of elbow grease and imagination.
Call Alcoil today on (03) 98874563 and boost your business.

Let's chat. We are here to help. 
Send us a message or call us on (03) 98874563.