Saving you time and money
Gutters. Contrary to what many think, it's not as simple as 'install and ignore'. Your guttering system is what keeps your home safe from a plethora of water related issues – recognise the enormous responsibility it has and choose only the best.
It's no secret that everyone loves a bargain, but when shopping for your fascia-fastened water warrior, cheap and nasty just won't do. In saying that, continuous guttering is as dependable as it gets, yet has the ability to save you both time and money.
With more benefits than you could poke a stick at, continuous guttering is a wise choice and is becoming more and more popular among houses of all styles.
Installation in a Flash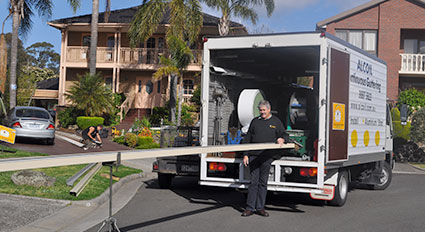 Unlike its fiddly sectional counterpart, continuous guttering is substantially quicker to install. With no joins to speak of, they'll have your new gutters up in a jiffy. You'll be able to get back to your day sooner, and keep the extra labour costs in your pocket while you're at it!
Presenting as one continuous length, the guttering is cut-to-measure on-site. Paying only for what you require – no more, no less - means limited waste, keeping a cap on material costs.
Low Maintenance
Rusty gutters are an eyesore that many homes struggle with; imagine being able to eliminate rust just by choosing your guttering a little more wisely.
Where there's a will, there's a way.
Due to the lack of joins in continuous guttering, leakages becomes a thing of the past and greatly reduce the risk of rust. Choose aluminium guttering and not only will it not rust – ever – but you'll also receive a 25 year warranty. How's that for low maintenance?
If steel is your material of choice, you'll find continuous guttering to be thicker than sectional steel, which enhances durability and offers a 20 year warranty.
 A reliable guttering system will ensure rain ends up down the drain and not defacing your home by potentially causing rotting wood and water damage to your paint job. It means less ladder time while minimising upkeep expenses.

Aesthetically Pleasing
In addition to the countless practical benefits associated with continuous guttering, it looks amazing! Unsightly joins have been tolerated for too long – it's time to bring in the sleek, smooth and sturdy guttering option. 
It goes without saying that continuous guttering looks far neater than sectional guttering; giving older homes a facelift while helping new homes achieve that sexy modern edge.
In the long run, continuous guttering is the best option. If you'd like a time and money saving gutter solution, call Alcoil today and we'd only be too happy to discuss your options.
Call Alcoil on (03) 98874563, for a continuous guttering quote.