As Colorbond continues to increase in popularity in Australia, so does the number of businesses that supply Colorbond. So it's important to shop around for a Colorbond supplier and installer that offers good value for money and high-quality services.
Here's our guide to finding the right Colorbond supplier.
Why Colorbond Steel?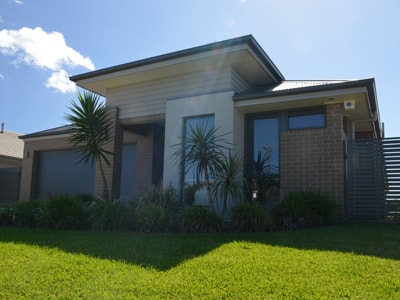 Colorbond is an incredibly strong and versatile building material. Colorbond roofing has been specifically designed and engineered to survive the harsh Australian climate, from hot sun to pouring rain and salty ocean winds.
With 22 colours inspired by the Australian landscape, Colorbond looks great on homes. The clean lines and beautiful colours of Colorbond roofing can drastically improve the look and value of your house.
To top it all off, Colorbond is environmentally friendly. Colorbond steel is thermally efficient and easy to insulate so it can reduce a household's reliance on heating and cooling, saving on energy consumption.
See more: Use our colour visualisation tool to see Colorbond in action.
What to look for in Colorbond suppliers
There are many Colorbond suppliers across Melbourne. Whether you're a tradie who installs Colorbond, or you're planning a DIY home improvement project that uses Colorbond, there are some important things to look out for when choosing a Colorbond supplier:
Warranty – Colorbond products are warranted by BlueScope Steel. Depending on the product and marine proximity, the warranty can last for over 30 years. Make sure that your Colorbond supplier passes on the warranty information to you. Read more about Bluescope warranties.
Custom solutions – Because Colorbond is so versatile and can come in different forms, make sure that your supplier is able to provide you with Colorbond exactly how you need it, from colour to application and quantity.
Free quote – Ensure there are no surprises with your Colorbond steel by getting a free, no obligation quote. This is especially important if you also need your supplier to install the Colorbond.
Licensed plumbers – Any Colorbond roofing installations that connect roofwater run-off to stormwater drains must be completed by licensed plumbers to ensure regulatory compliance. Ensure your Colorbond suppliers and installers are licensed plumbers.
Installation options – Professional or DIY

Once you have found Colorbond suppliers that meet all of your requirements, the next question becomes about installation options. Whether you opt for hiring professional Colorbond installers or plan to do it yourself should depend on your experience with construction and the size and complexity of the job.
Here are a few things you should be aware of when making the decision:
Professional installers – Hiring someone to install Colorbond for you is definitely the easiest option and in some cases, such as roofing, licensed professionals must complete the installation. Reliable tradespeople will be able to provide you with regulatory compliance and all the relevant documentation.
Owner-builder regulations – If the cost of a DIY job is over a certain amount, you will have to register as an owner-builder. This comes with a number of extra responsibilities including the need to obtain all the necessary permits and certificates for the construction as well as full legal responsibility for the structure.
Licensed tradespeople – As an owner-builder you are responsible for using licensed tradespeople where necessary. For example, you will need to hire a licensed electrician to install power to a Colorbond shed that you build.
Alcoil – Colorbond Roofing Suppliers and Installers
At Alcoil, we are a team of professionals, including licensed plumbers, who are experts in the supply and installation of Colorbond. We have over 25 years' experience providing our customers with the best quality roofing and guttering solutions.
Why Choose Alcoil?
Quality installations – All Alcoil roofing installations are completed by licensed plumbers to ensure compliance.
Quality materials – We use high-quality Colorbond roofing, backed by BlueScope warranties, because of its reliability and long-term value.
Custom solutions – We can work with you to come up with a Colorbond supply and installation solution that perfectly suits your needs.
Free, no-obligation quote – We take all the details into account so that there are no surprises when completing the job.
For more information, see Colorbond supply and installation or call us on (03) 98874563.