Roof guttering is often put on the back-burner, yet very important to maintain.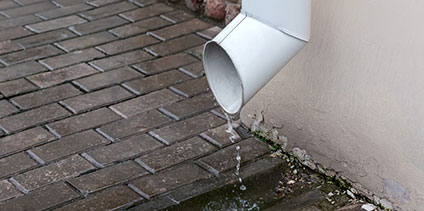 The guttering system attached to your fascia is vital to keep your home's structure and foundation safe from water damage. It operates by diverting the water away from your home to a drain or, if you have one, a rainwater tank.
It is advised to clean out your gutters twice a year – more if you're positioned in leafy surrounds. This is the ultimate way to ensure your guttering system reaches its life expectancy.
Steel guttering comes with a 20 year manufacturer's warranty, and aluminium guttering comes with 25 years; but unless you installed the existing gutters yourself, you're not to know how long they've been there.
Keep an eye out for the following tell-tale signs that your gutters may have seen their day:
Accumulating Rust: If your home is graced with the presence of aluminium guttering, this will not be a worry for you, as aluminium will never rust. Other materials such as steel may eventually rust, especially if you don't maintain your gutters.
Loose Guttering: Guttering that is bowing, sagging, or coming loose from the fascia is to be of concern as it can mean stagnant water in the gutter due to a build-up of debris. Not only can this affect the imperative shape of your guttering, but it's a sure-fire way to accelerate the formation of rust.
Cracked Guttering: There is only so much patching that can be done to mend cracks and holes; replacing your guttering is likely to work out more cost-effective in the long run as a result of eliminating the continual damage done to your house caused by inadequate gutters.
Draining Issues: The sound of rain splattering on the ground outside your window is an indication that water is flowing over the side of the gutter and not to the downpipe like it's supposed to. Causes may include blockages or misaligned guttering.
Water Damage: Water stains, mould or peeling paint on your home's exterior could mean your guttering isn't doing its job. What it is doing, however, is damaging your home.
Call Alcoil today on (03) 98874563 and boost your business.

Let's chat. We are here to help. 
Send us a message or call us on (03) 98874563.