Most people don't think about their gutters very often. But gutters are an extremely important part of any home and homeowners should take more notice of them, before they have a problem.
That's why it's vital that you get the right gutters installed for your home from the beginning. That way, your gutters will give you problem free protection from water damage with only an occasional cleaning.
In recent history, however, homeowners have lost one of the best options for guttering that there is: aluminium guttering.
Why is aluminium guttering no longer available in Victoria?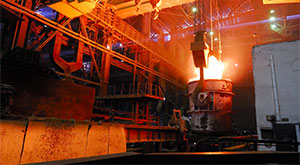 Alcoa's Point Henry aluminium smelter and rolling mill in Geelong was closed at the end of 2014. Since then, the supply of aluminium in Victoria has been significantly reduced. This has meant that aluminium suppliers no longer provide aluminium for the home improvement industry.
What does this mean for consumers?
The limited supply of aluminium in Victoria means that it is no longer possible to get aluminium gutters and downpipes. Previously, aluminium was an excellent option for guttering due to its tremendous longevity. In fact, Alcoil's original aluminium gutters installed almost 30 years ago, are still rust-free and going strong.
What are the other options?
While we are sad to see such a great guttering material gone from the market, and customers with fewer options to choose from, the news is not all bad. Since guttering suppliers no longer have the option of using aluminium, the closest alternative guttering material currently available is Colorbond.
Why choose Colorbond guttering?
There's good reason why Colorbond has become synonymous with metal roofing and guttering in Australia. Colorbond steel provides homeowners with long-lasting, high-quality gutters and downpipes.
The features and benefits of Colorbond guttering include:
Long lasting – Colorbond steel guttering is engineered and manufactured in Australia and designed specifically to survive the harsh Australian climate. Colorbond guttering can withstand scorching hot sun, torrential downpours and salty ocean winds.
Aesthetically pleasing – Colorbond guttering is available in a wide variety of colours and styles. No matter the style and colour scheme of your house, there is Colorbond guttering that will look great with it. Check out our colour visualisation tool for Colorbond guttering inspiration.
Backed by warranty – Colorbond guttering is backed by warranties from Bluescope Steel. Warranties on Colorbond guttering last for up to 20 years. Enjoy peace of mind knowing that your gutters will be in good condition for decades to come.

Colorbond guttering installation and supply
Alcoil are industry leaders in the supply and installation of Colorbond guttering and roofing. Our expert installers are all qualified plumbers and we provide our customers with plumbing compliance certificates upon the completion of all our installations.
We are also wholesale suppliers of Colorbond steel and other types of sheet metal. We can provide any quantity of sheet metal that you require, from one folded length to hundreds of metres. Whether you need sheet metal for a small DIY job or a large supply for your trade, Alcoil has everything you need.
Choose Alcoil for Colorbond supplies

At Alcoil, we offer our customers top quality products and services, these include:
Warranty – Colorbond offers long warranty periods and Alcoil passes that on to you. Enjoy peace of mind for decades to come.
Custom solutions – Alcoil can supply and install Colorbond in whatever quantity, size and colour that you need.
Free quote – Ensure there are no surprises. Get a free, no obligation quote on your Colorbond order or installation.
Discounts for tradespeople – Alcoil offers generous discounts on Colorbond wholesale for tradies.
For more information about Colorbond Guttering, or for a free quote, call Alcoil on (03) 98874563.