People usually don't think about their gutters very often, most of the time it's only when there's a problem. But if you're building a new home or you need to replace your gutters, you shouldn't treat your gutters as an afterthought; you'll want to make the right decisions.
Guttering can seem costly, but in reality, they're an important investment in the look and value of your property. Getting your gutters right will improve the appearance of your property and prevent water damage for decades to come.
After you've chosen you've to install Colorbond gutters, the next most important decision you'll make is which colour you want.
8 of the most popular Colorbond Colours
Colorbond roofing and guttering is becoming more and more popular in Melbourne, especially in newly constructed houses and apartment buildings. Since Colorbond guttering is available in all the same great colours as Colorbond roofing, you've got a lot of options to choose from.
Some of the most popular Colorbond colours for guttering are: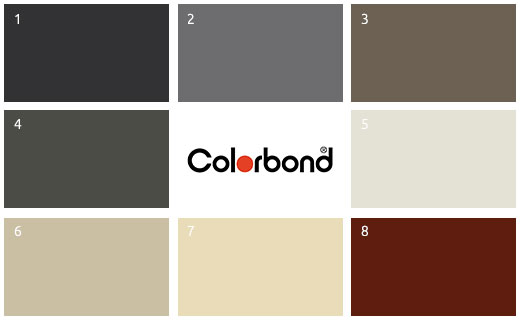 Monument
Basalt
Jasper
Woodland Grey
Surfmist
Paperbark
Cream
Manor Red
The range of available colours is just one of the reasons why Colorbond guttering is so popular in Melbourne. It's also the most reliable and long lasting option on the market, backed by a twenty year warranty from Bluescope Steel.
Matching your roofing and guttering
When you're deciding on the kind of guttering that you want for your home, one of the most important question you'll have to ask yourself is whether you want your gutters to be the same colour as your roof or if you want different colours that compliment each other.
These two options tend to tend to be pretty equal in terms of their popularity with consumers. Your choice will probably come down to aesthetic preference since there are so many colour options available to you.
If you're looking for tips on what roofing and guttering colours will look good together, there are a few options that are pretty safe. For example, the grey Colorbond colours like Monument, Ironstone, and Woodland Grey all look great together and would match a mini greenhouse. If you want to get a better idea of what the colours will look like together, check out this colour visualisation tool.
Guttering profile
Another important question that you'll need to consider when deciding on Colorbond guttering colours is what profile you want your gutters to be in. There are many different guttering styles that you can choose from and different types will be better suited to different types of architecture.
Depending on the style of your house, you want gutters that are rounded in appearance, square, stylised to suit heritage homes, or concealed. An architect or guttering specialist will be able to help you with any style related questions that you might have.
Alcoil are your Colorbond guttering and roofing specialists
Alcoil has over 25 years of experience with roofing and guttering. Our team of professional can provide you with a custom solution that will perfectly suit your needs, including guttering that is made to measure with no wastage.
Compliant installations – All roof plumbing jobs are completed by licensed plumbers and you will be provided with a plumbing compliance certificate upon completion.
Quality materials – Alcoil uses high-quality Colorbond guttering and roofing because of their reliability and longevity.
Free, no obligation quotes – Make sure you know what you're getting. Our estimators can schedule an inspection and quote at your convenience.
To find out more about your roofing and guttering options, call Alcoil on (03) 98874563.