Able to handle more water than a quad bike, Quad guttering has many benefits – especially if you live in Melbourne, and you experience four seasons in a day on a daily basis. In this kind of climate, all terrain guttering is a necessity.
As the most popular kind of guttering traditionally used in Victoria, continuous Supa Quad guttering spans that uneasy divide between functional and good looking. Add in 'clean' and 'low maintenance,' and you've got yourself a description of your ideal spouse.*
Gutters with a Resolution of Steel
So, let's talk functionality. Continuous Supa Quad guttering is made of steel, which has many benefits in itself. Composed of .55 gauge steel – 31% heavier than the industry standard – it is a true heavyweight of the guttering world. One of the benefits of this is that it is able to carry a lot more water than other varieties of gutter – so no matter how much Melbourne hits you, you know you're protected.

Other practical benefits include:
No joins eliminate any opportunity for leaks & less chance of rust
Can be used on tiled, slate & corrugated roofs
Unslotted for clean, low maintenance gutters
Choice of either internal or external brackets
A 20 year manufacturer's guarantee
More Than Just a Pretty Face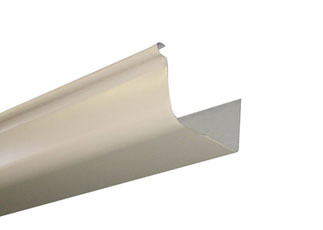 As well as being highly functional, Supa Quad guttering is also extremely easy on the eyes. At Alcoil, we find ourselves recommending Quad guttering a lot – both due to its functionality and because its many adaptable features complement a full range of housing styles, old and new.

Despite its weight, this type of guttering is also highly flexible. It is able to be rolled out in continuous lengths for a smooth, seamless look to your house, and comes in a variety of Colorbond colours. Its lack of joins also helps to avoid the cluttered look that some other gutter varieties possess.

Available in continuous heavy gauge Colorbond steel, Alcoil recommends Quad guttering for anyone who has a preference for superior items that last a lifetime.

Contact Alcoil on (03) 9887 5822 to begin a guttering relationship that will stay strong through all the rough patches (of weather).

*Espousal of guttering is currently unrecognised in Australia or any other country.

adsadsds